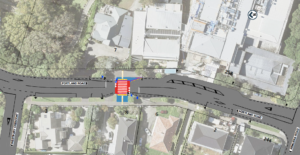 Next week AT will open a consultation on a raised zebra crossing on Portland Road, Remuera. AT says "Aucklanders have told us that moving around our city safely and easily is important to them. We are proposing some improvements to your area and are asking for your views. We want to improve the safety of people crossing the road outside King's School, in particular school children and those accessing nearby bus stops, by upgrading the existing zebra crossing to a raised zebra crossing. Safety around schools is important to us and by making these changes we aim to slow the speed of approaching drivers and make the crossing more visible".
A letter and drawing showing the proposed changes is attached.
The letter will be delivered to local residents and businesses affected by the proposal within the next week. This information will also be published on our website along with an online feedback survey.
2012 Portland Rd Consultation Letter