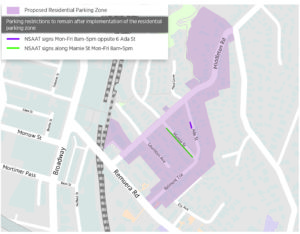 Please be advised that this is an engagement exercise from AT to seek public feedback on proposed residential parking zones (but mostly on the Newmarket side). There is a small section on Middleton Road that crosses into our local board area. Be aware that changes to residential parking around Newmarket will further push commuter parking into Remuera. 
What is a residential parking zone?
A residential parking zone is a collection of residential streets upon which a parking restriction is applied. It allows short term parking for visitors and all-day parking for coupon and permit holders.
Within the residential parking zone all residents and businesses can apply for a parking permit, which will exempt them from the time restrictions. They can also obtain parking coupons that allow visitors to be exempt from the restrictions for a day.
What are we proposing for Remuera?
A residential parking zone that encapsulates the entirety of Middleton Road, Ada Street, Mamie Street, Lauriston Avenue and Belmont Terrace.
Time restrictions of two hours (P120), Monday to Friday, 8am to 6pm are proposed for the residential parking zone.
The time restriction will only apply to vehicles that do not have permits or coupons.
The P120 time restriction will replace most of the existing parking restrictions in the area. However, the parking restrictions shown on the attached map will remain in place. Vehicles with residential parking permits or coupons will not be exempted from the existing parking restrictions that are to remain in place.
All existing residential parking schemes such as Resident Only Permits, and Resident Exempt Permit Holders will be replaced by the new proposed zone. Existing holders of the permits will need to apply under the new zone.
Why are we proposing the residential parking zone extension?
AT has received multiple requests from this community to create residential parking zones.
Parking occupancy in this area is regularly above 85% occupancy at peak times.
To provide greater parking availability and flexibility for residents, businesses and visitors. The two-hour time restriction supports parking for business customers and casual residential visitors, while not allowing for non-resident long-term parking.
To reduce congestion from vehicles driving around looking for parking spaces. Less circling vehicles should also improve pedestrian safety in the area.
To reduce incidences of parked vehicles obstructing driveways, as vehicles do not have to park in marginal spaces.
How can the public find out more or get involved?
Feedback is open until Sunday 24 November
Provide feedback using the freepost feedback form that is part of the consultation brochure
Provide feedback by going online to AT.govt.nz/haveyoursay
Talk to us by calling (09) 355 3553
Talk to us at the Remuera drop-in session at The Community of Saint Luke, 130 Remuera Road, Tuesday 5 November 4pm-8pm