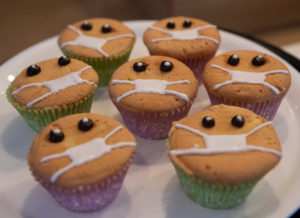 This list is an addendum to our Remuera's Essential Services during Level 4 Lockdown.
Under Level 3, from Tuesday 28 April 2020, businesses can open for delivery and contactless pre-ordered pick up, but customers are not able to enter stores.
The businesses on our list have been promoting Level 3 services. Every attempt has been made to verify information on services, from our bubble (E&OE). Many businesses not listed may have been trading online throughout the lockdown – please check your favourite local websites to clarify if services are now available.
We encourage you during this Covid-19 lockdown to support your local businesses.
BENSON ROAD SHOPS
THE BAY TREE OF REMUERA (gifts)
thebaytree.co.nz
thebaytree@xtra.co.nz
09 522 2991
BENSON RD DELI (food & coffee)
Cnr Upland & Benson Roads
bensonrddeli.co.nz
brd@brdcafe.co.nz
09 520 0748
Click & collect takeaway from 7am-3pm.
SIMPLY FLOWERS ON BENSON (florist)
64 Benson Road
orders@simplyflowers.co.nz (Nicole)
09 522 7022
Contactless delivery. Daily special on Instagram.
ORAKEI BAY VILLAGE
AMPERSAND EATERY (food & coffee)
228 Orakei Road
ampersandeatery.nz
09 522 9503
'At Home' prepared meals, takeway coffee & wine, for pickup and delivery. Takeaway coffee & breakfast – from 8am till 4pm, Dinner, dessert & kids meals –  from 4pm till 9pm, Wine – order anytime with 2-3 day delivery.
BIRD ON A WIRE (food)
234b Orakei Road
birdonawire.co.nz
09 320 0134
Bowls, baguettes, birds, brunch and more. Order at: www.birdonawire.co.nz/order-now. 11am-2pm and 5pm-8pm, seven days a week. Contactless delivery to your car.
BOWL + ARROW (food)
228 Orakei Road
bowlandarrow.co.nz
09 520 3030
Serving full menu. Offering both click and collect or delivery around the local area via their online ordering – https://www.bowlandarrow.co.nz/order-online. Pick up in the Brothers Beer Patio area to the left in the top car
park.
BROTHERS BEER ORAKEI (alcohol+)
228 Orakei Road
brothersbeer.co.nz
09 974 3380
Order alcoholic & non-alcoholic drinks for pickup, & their full Juke Joint (jukejoint.co.nz) menu – https://brothersbeer.co.nz/collections or download app – https://mnyou.co.nz/
GREAT LITTLE VINEYARDS (wine)
228 Orakei Road
greatlittlevineyards.com
09 529 0935
Click-and-collect for orders from 10am-3pm, Monday to Friday. Collect orders from their warehouse entrance roller door.
KINGS PLANT BARN, REMUERA (nursery)
228 Orakei Road
kings.co.nz
09 524 9400
Online orders despatched after Tuesday 28th April.
SAKU SAKU (food)
sakusaku-nz.com
2/228 Orakei Road
09 974 2292.
Takeaway. Pickup from outside Saku Saku, will call you when your order is ready for pick up. Open Tuesday – Sunday (closed Monday).
ORAKEI ROAD – SHORE ROAD
PALMERS GARDEN CENTRE (nursery)
Cnr Shore & Orakei Roads
remuera@palmers.net.nz
09 524 4038
021 867 072 (text)
Taking orders. Coffee cart.
REMUERA TOWN CENTRE
4 & 20 BAKERY (food)
3A Clonbern Road, Remuera
4and20.co.nz
09 529 0307
Take home ready meals.
AUNT LEE'S SUSHI food)
5/328 Remuera Road
09 520 6572
Open from 6th May, 11:00am to 6:00pm
BAKERS DELIGHT REMUERA (bakery)
1 Victoria Avenue
09 524 5760
021 2523975
Orders by texting or calling. Collection Tuesdays, Thursdays and Saturdays. Pick-ups will be contactless at the front of the shop. No cash. Paywave available.
BIN INN REMUERA (grocery)
333 Remuera Road
remuera@bininn.co.nz
09 520 0595
Now treated as a supermarket. Open for customers from Tuesday and customers can come in and do their shop
BROWNS EATERY AND STORE (food)
409 Remuera Road
brownseateryandstore.co.nz
021 276 9674 (021Browns4)
Open 7-3pm. Online, phone or text orders or download the REGULR app
COLD HARBOUR KITCHEN (food)
341 Remuera Road
chk@jamjarcreation.co.nz
09 520 1232
Open for phone orders to pickup, Tuesday to Saturday, 4pm to 10pm. Menu in window.
THE DELI (food)
419 Remuera Road
thedeli.net.nz
info@thedeli.net.nz
09 529 2517
Ready meals, takeaway only.
GLENGARRY WINES REMUERA (wine)
400 Remuera Road
glengarrywines.co.nz
remueramanager@glengarry.co.nz
09 523 1594
Contactless.
HEDGEROW (gifts & homewares)
371 Remuera Road
hedgerow.co.nz
09 524 0843
Open for online and phone orders. Will courier, hand deliver and offer collection from the store 9.30am-4.30pm.
HELL PIZZA REMUERA (food)
283 Remuera Road
Hellpizza.co.nz (select Remuera store)
09 520 1333
Online or phone orders. Contactless pickup & delivery.
LIQUORLAND REMUERA (alcohol)
427 Remuera Road
liquorland.co.nz
09 520 3783
Place orders ready for collection from Tuesday. Click & collect orders. Select local store on website. Instructions on door.
ONE VICKY AVENUE COFFEE & KITCHEN
1 Victoria Avenue
09 520 3004
Opening.
PAPER PLUS REMUERA (stationery & books)
389-391 Remuera Road
remuera@paperplus.co.nz
09 520 8515
Ordering & despatching essential and non-essential products.
PITA PIT REMUERA (food)
404 Remuera Road
pitapit.co.nz
remuera@franchise.pitapit.co.nz
09 522 7482
Online, phone & takeaway orders.
REMUERA LOCAL (food)
371 Remuera Road
remueralocal.co.nz
09 520 2900
Phone orders, pickups & delivery options. Payments online preferred, Paywave available. Pickup table located on Laneway side, 2A Clonbern.
SAHANA (food)
305 Remuera Road
sahanarestaurant.co.nz
09 524 6810
021 1606810
Open for deliveries & takeaways.
SANDERS OF REMUERA JEWELLERS
385 Remuera Road
sandersjewellers.co.nz
mark@sandersjewellers.co.nz
09 520 3630
021 0748532 (text)
Pick up and delivery service for all watch and jewellery repairs.
SGRAFFITO (picture framer)
1 Garden Road
sgraffito.co.nz
info@sgraffito.co.nz
09 520 5090
021 478 839
Allowing people in the shop, a table and drop off point with a eftpos machine set up, communication will be a 2 metre distance or by phone or internet.
THAI VILLAGE RESTAURANT, REMUERA (food)
10/415 Remuera Road
thaivillagerestaurant.co.nz
09 523 3005
Contactless deliveries & takeaway.
TOSCA EXPRESSO BAR (food)
405 Remuera Road
instagram.com/tosca_remuera
Open from Tuesday 7am until 1pm everyday, Sat 8am 12pm.
TOSHI JAPANESE (food)
319 Remuera Road
09 520 7592
Order through Uber Eats and opening hour is 11:00am-2:30pm and 5.00pm-8:30pm.
UPLAND ROAD SHOPS
THE CORNER REMUERA (food)
604 Remuera Road
thecornerremuera.co.nz
enquiries@thecornerremuera.co.nz
09 283 0377
Limited takeaway options.
MADAM JOJO'S FOODSTORE (food)
madamejojo.co.nz
09 523 5545
Contactless collection & delivery. Menu on facebook page. Order by phone. Hours Monday to Saturday 8.30am – 3.30pm.
SALS AUTHENTIC NEW YORK PIZZA REMUERA (food)
547 Remuera Road
sals.co.nz
09 521 7257
Delivery & click & collect.  Details on website.
SHAHI INDIAN INSPIRED (food)
610 Remuera Road
shahi.co.nz/takeaway-at-remuera/
09 523 5496
Full menu takeaway.
UPLAND CAFE (food)
563 Remuera Road
09 524 0356
Phone orders. Takeaways from 8.00am coffee & cabinet food.
HOME DELIVERY
EAT LOCAL NZ
eatlocalnz.com
From any local café, restaurant, farmers market, or local suppliers. Support your local cafes and restaurants with safe online ordering. Launches on Tuesday 28 April. Set up your account now.