"It is a sea change … one that very few people would have seen coming."
[NZ Herald – Thurs 13 August 2015] –
Bernard Orsman
Thousands of homes in Auckland's leafy house and garden suburbs and rural townships could be rezoned for multiple townhouses, apartments and studios, say resident groups. They believe large swathes of the city where single houses sit on a single site will be rezoned to allow developments with no density controls.
Last night, Deputy Mayor Penny Hulse said there was no intention to reduce the size of the "single house" zone, but would not say how far proposed changes could go. The proposed changes were to ensure a clear distinction between the single house zone and mixed housing suburban zone, and to provide precise language that could be legally defended, she said. The extent of the changes would not be known until zoning maps were finalised: "It [single house zone] may increase in some areas and decrease in others," Ms Hulse said.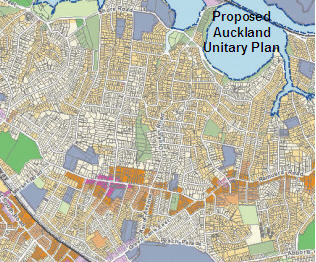 Herne Bay Residents Association chairwoman Christine Cavanagh said the council's new position came as a bolt out of the blue. "It's a sea change in the planning of Auckland and one that very few people would have seen coming. It basically destroys a lot of the character of the inner-city suburbs like Grey Lynn, Ponsonby, Herne Bay, Parnell and Mt Eden," she said. Every Auckland suburb, Mrs Cavanagh said, would be affected to a varying degree.
She and resident groups were responding to a "proposed interim position" by the council to limit the single house zone in the Unitary Plan to areas of historic or natural character, or areas with significant environmental or infrastructure constraints. The new position was presented at mediation on the Unitary Plan, where the council, developers and resident groups discussed sticking points for residential zones. The single house zone covers 32 per cent of residential Auckland and allows one house per 600sq m for new builds.
Civic Trust member Helen Geary said house owners could find their property rezoned without their knowledge to a "mixed house" zone, allowing buildings of three storeys. She said residents in the single house zone probably did not make a submission on the Unitary Plan because it only indicated minor changes. "Now their ability to make a submission has disappeared and they will find the zones have been changed on them. This seems to be a denial of natural justice," Ms Geary said.
Kumeu-Huapai Residents and Ratepayers Association chairman Pete Sinton said he was surprised to learn that predominantly single houses in rural townships such as Kumeu, Warkworth, Helensville and Waimauku could be be rezoned for "high intensification" mixed housing. "It just doesn't make sense," he said.
Mayor Len Brown said at this stage of the hearings process there had been no discussion or direction on the spatial extent of the residential zones, including the single house zone. That discussion will occur later in the year, in time for hearings on zoning submissions in February, he said.
Mission Bay locals who spoke to the Herald said they were dismayed and upset by the plan. But business owners there were thrilled, believing the apartments and multiple townhouses would bring in more business. "In the winter this place is dead, and we depend on the locals to keep us alive," said Huseyin Sayimei, 59, who owns Bean Rock Restaurant. "Apartments mean more locals and that could mean we don't die every winter."
Local Sue Eustace, 55, a marriage celebrant, said she would be okay with the plan if the developments did not exceed four levels. Another local, Jannie van Hees, in her 60s, described the plan as "awful" and a "disaster". "When you jam-pack houses side by side and high-rise buildings you lose the spaciousness and the freshness of the atmosphere," she said. "I think it would be awful and a complete disaster, and it's just terrible."
Last month, the Herald reported that the council, developers and the Auckland 2040 community group were making progress on removing density controls in the two mixed housing zones to allow more houses to be built.
Today, the council's Auckland Development Committee will discuss advice from the hearings panel to rethink a demolition control for pre-1944 buildings and preserving views from vantage points to volcanic cones.
– additional reporting Lincoln Tan